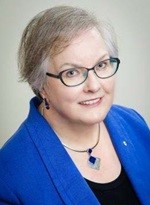 As of February 15, 2019, Anne Martin-Matthews OC PhD FCAHS has been appointed as Associate Vice-President Health at UBC, for a five-year term. She retains her academic appointment in Sociology and continues her research on aging and in social gerontology. In recent years, Anne has been actively engaged in academic and research administration. From May 2017- October 2018, she served as Acting Vice-President, Research, Knowledge Translation and Ethics, for the Canadian Institutes of Health Research (CIHR) in Ottawa. Prior to that, she completed two terms (2004-2011) as the Scientific Director of the Institute of Aging, one of 13 national Institutes of the CIHR. Under her leadership, the CIHR Institute of Aging led the development of the Canadian Longitudinal Study on Aging (CLSA), launched in 2009, a 20-year study of 50,000 Canadians aged 45-85. Since coming to UBC in 1998, she has held positions as Associate Dean Research, Associate Dean Strategic Initiatives, and Dean pro tem in the Faculty of Arts. She has been a member of the Department of Sociology since 2008. Prior to coming to UBC, she was founding Director of the pan-University Gerontology Research Centre, and a member of the Department of Family Studies, at the University of Guelph (1978-1997).
Throughout her career, Anne has had a particular focus on mentoring. In recognition of her creation of an annual interdisciplinary and national Summer School in Aging (SPA) run by the CIHR Institute of Aging; an international collaboration (with Italy and Sweden) in the creation of an International Summer School in Aging, and her mentoring of a generation of trainees in aging research in Canada, she received the Canadian Association on Gerontology's Evelyn Shapiro Recognition Award for Excellence in Student Mentoring (2016) and a UBC Killam Award for Excellence in Mentoring (2017). In 2012, CIHR created the "Anne Martin-Matthews Doctoral Research Prize of Excellence in Research on Aging", in recognition of her "commitment to the mentoring of the next generation of researchers on aging". It is awarded annually to a top-ranked doctoral student in aging in Canada.
Anne Martin-Matthews is a Fellow of the (U.S.) Gerontological Society of America and of the Canadian Academy of Health Sciences. She holds a Distinguished Alumnus Award from McMaster University, and a Commemorative Medal for the Golden Jubilee of Queen Elizabeth II, from the Canadian Association on Gerontology, and for the Queen's Diamond Jubilee, from the Government of Canada. In recognition of her contributions to research on aging, she was awarded Honorary Degrees in Civil Law from Newcastle University (UK) in 2010, and Memorial University in 2018, and was inducted as an Officer of the Order of Canada in 2018.